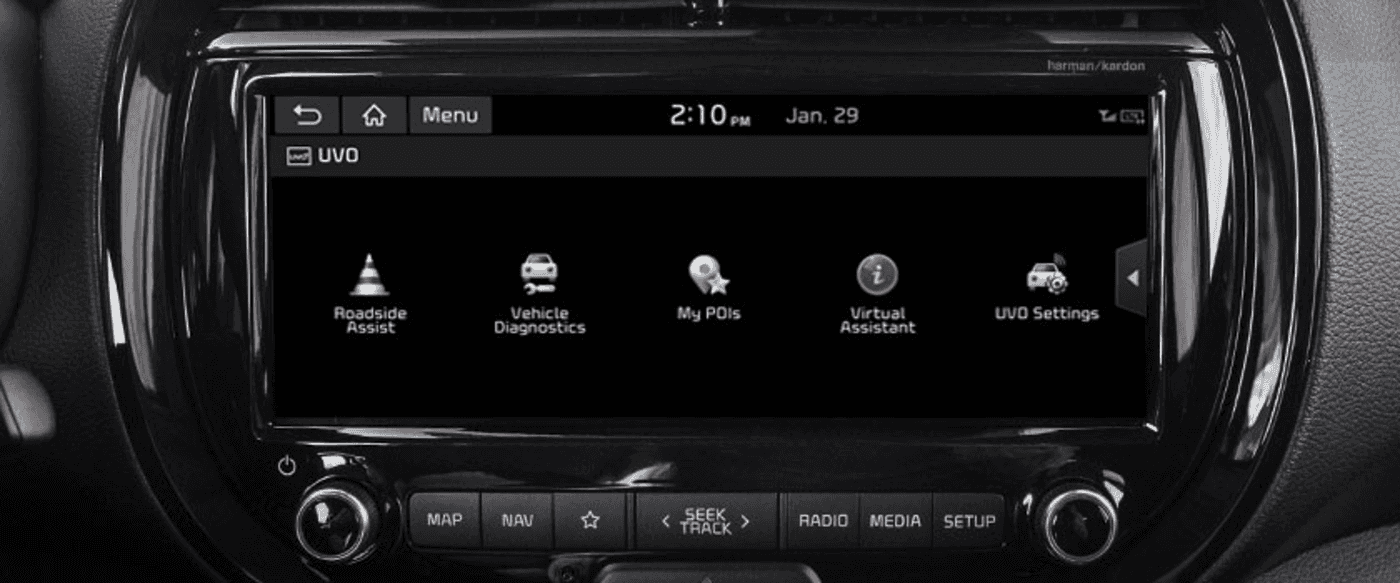 What is Kia UVO and what does Kia UVO do for your drive in Alton? Kia UVO is a revolution in automotive infotainment. With Kia UVO, you've got advanced voice controls over your audio and navigation, keeping your eyes on the road and enhancing your overall driving experience. There is also Kia UVO link, which is a set of subscription services that improves upon the prior generation of Kia UVO eServices.
If car technology sounds like your idea of a good time, it may be the right time to look at a new Kia. We at Federico Kia know quite a bit about Kia models and we will be able to answer just about any question you can throw at us regarding your next Kia. We also offer excellent service that will keep you driving longer because of our expertise and knowledge. Don't take a chance on another dealer. Come to the pros.
---
What Is Kia UVO?
If you're unfamiliar with all the great features in Kia's adventurous and modern line of cars, you might be wondering "what is Kia UVO?" or "what does Kia UVO do?" Kia UVO is an integrated suite of features in the Kia infotainment system that will seriously upgrade your commute in Edwardsville. With Kia UVO, you have access to all your car's infotainment and navigation features and with voice commands, you'll be in complete control without turning your eyes from the road.
There's also Kia UVO link, a set of subscription-based services. This is what you get with the various Kia UVO Link packages:
Kia UVO link Lite includes MyTrips, 911 Connect, Maintenance Alert, and more. Certain models give you the Kia UVO remote start in this package.
Kia UVO link Care includes everything given to you in the Lite package, plus Roadside Assistance, a Vehicle Alarm Alert, and a Curfew Alert.
Kia UVO link Plus comes with everything that comes with the Lite and Care packages, plus Remote Climate Control, Remote Lock/Unlock, Find My Car, and much more.
Kia UVO link Ultimate provides all the aforementioned features, but you also get an immensely luxurious suite of technological conveniences, such as My POIs, Home-to-car for Alexa and Google, and more.
If you buy a new Kia from Federico Kia, you get a Kia UVO link Lite subscription for five years, a spectacular addition to an already incredible car. If you still have Kia UVO eServices, you will get My Points of Interest, My Car Zone, Parking Minder, and 911 Connect on the house through your connected Kia UVO app.
Federico Kia Are Kia People
Are you having trouble with a Kia UVO update in Godfrey? Are you in need of some other kind of Kia UVO troubleshooting? Come on by Federico Kia, the experts in everything Kia UVO. We'll diagnose any Kia UVO system problems you may have and get you back out the door before you know it. Here's a great way to learn more about what we have to offer: just use our contact web form.